$35

A-PDF Image to PDF
Powerful Scan to PDF Tools to Convert HP Scanned Image to PDF
Easily scan paper into a sigle PDF file with 2 step.
Can combine multiple image files into one PDF file.
Password protection for PDF files with 40 or 128 bit encryption.
Support watermark, bookmark, viewer setting.
Supports over 20 image file types. Convert TIFF to PDF, Convert JPEG to PDF, Convert BMP to PDF,  etc

Free Trial
Buy Now
Why Use?
Screenshot
How It Works
A-PDF Image to PDF is a windows application which can directly convert dozens of image formats, such as TIF, JPG, GIF, PNG, BMP, PSD, WMF, EMF, PDF, PCX, PIC and so on, into PDF format. A-PDF Image to PDF supports most image formats, including images from scanners or digital cameras. Before being converted, the images can be de-skew, rotated, cropped or flipped, etc. Other features include the ability to set the page size, orientation, margin and layout of the output PDF document, change its properties, security setting and viewer options etc.
Why A-PDF Image to PDF?
Supporting Batch Processing of scanned file
A-PDF Image to PDF can Batch Process Scanned images before you convert them to PDF file, include: Batch Cut scanned pages (Vertical or Horizontal); Batch De-Skew scanned file; Batch Crop and Rotate Scanned Images.
Supports acquiring images directly from scanner or digital camera
Supporting image acquisition from TWAIN scanners and image acquisition from WIA scanners and cameras.
A-PDF Image to PDF provides a very convenient, simple way to create electronic books which can be posted on the Web. You can scan paper documents directly to image files and convert them to PDF.
Multi-Output mode
A-PDF Image to PDF is able to set the output mode:
1. Build to one PDF file.
2. Build to one PDF file and email.
3. Build to one PDF file and send to Ftp Server.
4. Build to multi-PDFs for each images.
5. Build to one PDF file and merge to an existing PDF.
6. Build selected images\scanned pages to one PDF file.
7. Build to multi-page TIFF files.
Supporting Rearrange scanned pages
You can rearrange, sort or delete page from the scanned pages you wish; Add new scanned pages to an existing TIFF file.
Control output PDF size
You can control the output PDF size using 4 kinds of output mode:
High Quality Output: A-PDF Image to PDF creates PDF from images (Scanner) with high printing resolution.
Small File Size (Color): It will compress the images by resizing and reducing the JPEG quality for color images in output PDF.
Small File Size (Monochrome): It will convert images to monochrome(black and white only) and resize them to reduce the output PDF file size. The option is great for scanned text images.
Small File Size (Grayscale): The option is similar to Small File Size (Color) except the output PDF file will be grayscale.
Here are some screenshots of version 2.0 below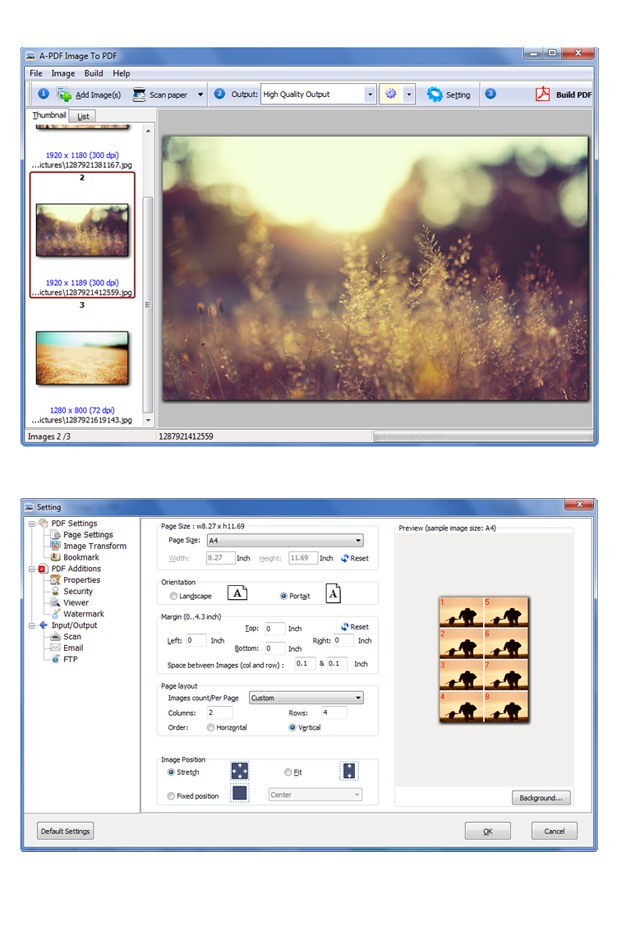 Three steps to Convert Image to PDF with A-PDF Image to PDF