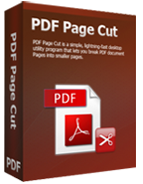 $35

A-PDF Page Cut
Classic Tool to Split PDF Pages into Smaller Pages
Unique Cut Function: an unique function that cut pages into more pages.
Batch Cutting PDF Pages.
Cut a hundreds pages file in seconds.
Does NOT require Adobe Acrobat Pro.
Command-line Mode: Windows console utility that silent cut PDF pages

Free Trial
Buy Now
Why Use?
Screenshot
How It Works
A-PDF Page Cut is a simple, lightning-fast desktop utility program that lets you break PDF document Pages into smaller pages. It provide visual cut marks editor to cut PDF pages more conveniently.

Why A-PDF Page Cut?
Unique Cut Function
The program provides an unique function that cut pages into more pages.
Image it, you have a PDF file that consisting of some scanned material, unfortunately two pages were scanned at one page once so you'd like to vertically or horizontally split each page into two separate pages.
A-PDF Page Cut automates the PDF pages slicing process and saves you hours of time and unnecessary steps. Just place the cut marks (vertical or horizontal cut lines) on your PDF page right where you want them. The program automatically cut pages into each slice based on cut marks. For example, a 2-pages PDF file will be cut to a 4-pages PDF file using a simple cut marks.
Batch Cutting PDF Pages
A-PDF Page Cut can batch split multiple PDF documents pages automatically base on select cutting rule at same time.
Easy to Use
A-PDF Page Cut provide a visual cut marks editor to allow you define how the pages will be cut. To achieve it, just add/Move the cut marks (vertical or horizontal cut lines) use your mouse, then click "Cut and Save as" button.
You even can define different cut rule in the different pages.
Here are some screenshots of version 2.0 below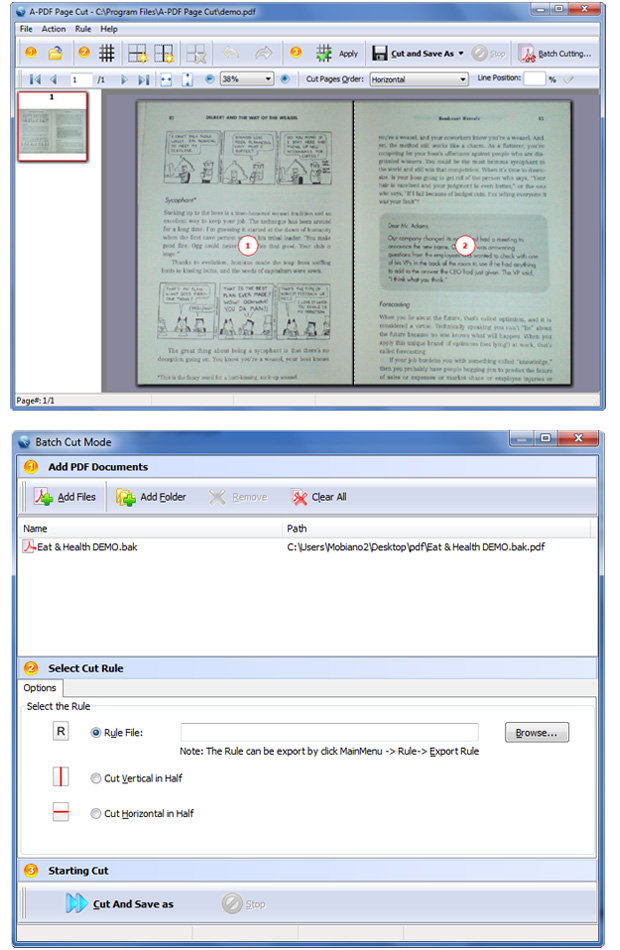 Three steps to Cut PDF Pages with A-PDF Page Cut