$99

Flip PDF
Create a real flipping effect eBooks from PDF in minutes
Professional tools to convert PDF to eye-catching Digital Flash Flip ebooks.
Fully customized viewer, allows you to change your ebook look&feel.
Retain PDF Hyperlink, Bookmark and Text.
Publish online or offline(email and CD).

Unlimited

conversions

without paying royalties.
Publish online for mobile devices (iPhone, iPad, and Android devices).

Free Trial
Buy Now
Why Use?
Screenshot
How It Works
Flip PDF provides a quick and easy way to batch convert ordinary PDF files into stunning booklets with amazing page-flipping animations and sound! Imagine being able to create digital magazines and catalogs that behave like actual paper books without any programming work! Once you've created your page-flipping masterpiece in Flip PDF, you can publish it to the web, send via email, and even distribute it on Mac or CD-ROM, all without paying royalties!


Why Flip PDF?
Create a real flipping effect eBooks in minutes
With the easy-to-use interface, you can create realistic Adobe Flash based page-flipping eBooks in less than 10 minutes. No programming tricks needed! Thanks to the many templates included in the new version, it is even quicker to generate your eBook than ever before.
Publish online, or for Mac, mobile, email and CD
You can publish digital (electronic) editions of any type of publications, magazines, brochures and catalogues to web sites, email and even Mac Application, CD-ROM. You new page-flipping eBook is royalty-free.You don't need to pay any more to us no matter what your intended purpose is, whether commercial or personal.
Keep PDF Hyperlink, Bookmark and Text
Flip PDF Imports the hyperlinks, bookmarks and text from original PDF files. Users can click the hyperlinks inside to flip to another page or go to a web page directly. The bookmarks allow users to browse your books and catalogues quickly. They even can search your eBook because the text in your PDF files has been imported as searchable text.
Control your eBook
With Flip PDF, you can create your own style. Customize the page-flipping eBook colors. Set a background image for branding. Customize the toolbar to allow or not allow users to print, to download or to share your page-flipping eBook. Modify height and width to make your page-flipping eBook landscape or portrait format. There are dozens of different settings which allow you to customize your page-flipping eBook to suit your style.
You can even set a password to control who can view your on-line page-flipping eBook.


One-time fee, unlimited conversion
Once you have purchased the software, you can use the program to convert an unlimited number of PDF files to any number of page-flipping eBooks. No subscription fee, no conversion fee, not limited to a single website.

Here are some screenshots of version 2.0 below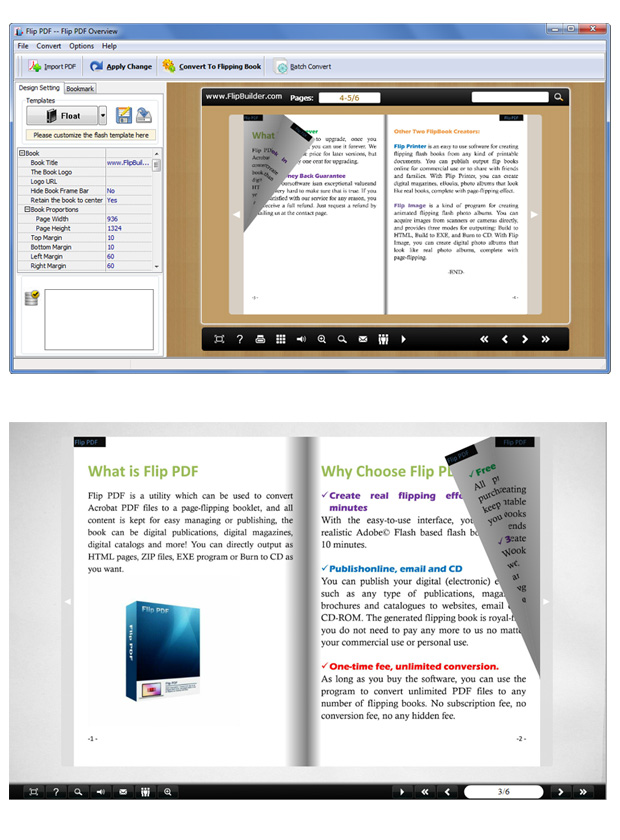 Three steps to Convert PDF to Flash catalog with Flip PDF