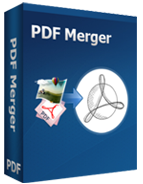 $35

A-PDF Merger
Powerful PDF Merger tools to combine PDF Documents into a Single One
Easily merge your PDF documents into a sigle file with 2 step..
Combine two or more image files or Acrobat PDF files into a single PDF document
Provides special PDF merge methods.
Convert and merge Microsoft Office Document to single PDF File.
Append new Pages to Existing PDF Documents
Create Output File with User-defined Settings

Free Trial
Buy Now
Why Use?
Screenshot
How It Works
A-PDF Merger is a desktop program that will quickly merge image files and multiple PDF files into single large PDF document on the Windows in literally seconds. The software will combine an unlimited number of PDF files with the ability to arrange them any order.
A-PDF Merger provides special merge methods, You can import many PDF files and merge them together with all pages to a single PDF. The other way is to merge PDF with specific part or pages.
With A-PDF Merger, you also can merge Office files, if A-PDF Office to PDF installed.
Why A-PDF Merger?
Merge an unlimited number of PDF files
Get organized and merge all your PDF files into one large PDF file
Secure output PDF files
A-PDF Merger allows you to insert Meta Data to proclaim authority, you also can set the user and owner password with strong 128bit encryption to protect your PDFs from printing and editing.
Convert Scanned Images to PDF File
A-PDF Merger supports popular image formats: TIFF (.tif), Multi-page TIFF, Windows bitmap (.bmp), GIF (.gif), JPEG (.jpg), Portable Network Graphics(.png), JPEG2000(.JP2, .J2K), Photo Shop Document(.psd), PCX, DCX, DIB, RLE, TGA, PBM, PGM, PPM, ICO, PCD, WMF, EMF, CUR.
Convert Office to PDF File
A-PDF Merger supports Microsoft Office Document formats: Word files(.doc), Word 2007 (.DOCX), Excel files(.xls), Excel 2007(.xlsx), Powerpoint files(.ppt), powerpoint 2007 (.pptx).
* You must install the A-PDF Office to PDF to support the office file converting.
Append New Pages to Existing Documents
Appending or inserting pages(PDF file or image file) to an existing PDF file with A-PDF Merger is easy.
Powerful Merge Methods
Use special merge methods to rearrange the pages of PDF files. You can mix, reverse and repeat pages of source documents.
There are 5 merge methods: Whole, Part, Mix, Mix reverse, Repeat.
Easy to Use
With the intuitive interface, the merging is as easy as 1-2-3:
Add files by clicking the "Add" button
Adjust the file order
Click "Merge" button.
Save Time
A-PDF Merger's convenient features include 'drag and drop' for adding individual files to your documents, or even adding all files from a directory/folder with one click, as well as allowing you to create an 'import' list for frequently used sets of documents.
A-PDF Merger has great performance with optimized merging speed.
Work with Bookmarks
A-PDF Merger is able to join the bookmarks in source files and save to the output PDF file.
Create Output File with User-defined Settings
A-PDF Merger's features include the ability to change the Properties of the output PDF document, change its security settings, bookmarks, and how a merged pdf file is displayed(view layout). You can even add your own style and format of page numbering to the output PDF.
Here are some screenshots of version 2.0 below
Three steps to merge PDF with A-PDF Merger