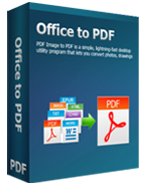 $49

A-PDF Office to PDF
Batch Convert Microsoft Office (Word, Excel, Powerpoint, Publisher, Infopath, Visio, CHM) to PDF.
Support Office 2003 - 2010 to PDF
Easily convert Office into PDF file with 2 step.
Convert the editing file with Office Add-Ins
Automating the Process of Converting Office to PDF
Preserve hyperlinks in Microsoft Word and PowerPoint
Support Various File Format (Word, PPT, Excel, CHM, Publisher, Infopath, Visio)

Free Trial
Buy Now
Why Use?
Screenshot
How It Works
A-PDF Office to PDF Converter can create PDF files from Microsoft Office 2003,2004 and 2010, A-PDF Office to PDF Converter can convert Word, Excel, Powerpoint, Publisher, Infopath, Visio, CHM documents(.doc, .xls, .ppt; .docx, .xlsx, .pptx, .pub, .xml, .xsn, .vsd, .vdx .chm) into professional-quality documents in the PDF file format. Support hot directory monitor and connamd line mode.
Why A-PDF Office to PDF?
Create PDF with 100% Reserve Layout
A-PDF Office to PDF can preserve not only tables, images and formatting, but also text columns, font and style, image placement, superscript, subscript and underlined text, even the overall document layout is preserved 100%.
Combine Multiple Files to A PDF
A-PDF Office to PDF provides a convenient way to combine multiple files of different types into a single PDF document if there is need.
Secure and Customize after Creating PDF
A-PDF Office to PDF allows you to set Security and Meta Data. Customizing Meta Data helps you to claim the authority of output PDFs; by setting user and owner password, you can protect PDFs from copying, printing and editing. Even more, you can output the created PDFs to be PDF/A compatible.
Support Various File Format
Includes:
MS Word File: .DOCX, .DOC, .DOT, .TXT, .RTF, .WRI
MS Powerpoint File: .PPTX, .PPT, .POT, .PPS
MS Excel File: .XLSX, .XLS, .XLT, .XLC, .XLA, .XLW, .XLM
Microsoft Compiled HTML Help: (.CHM)
MS Publisher File: .PUB
MS Infopath File: .XML, .XSN
MS Visio File: .VSD, .VDX
Image File: .TIF, .TIFF, .FAX, .G3N, .G3F, .XIF, .GIF, .JPG, .JPEG, .JPE, .JIF, .PCX, .BMP, .DIB, .RLE, .PNG, .DCM, .DIC, .DICOM, .WMF, .EMF, .TGA, .TARGA, .VDA, .ICB, .VST, .PIX, .PXM, .VBMP, .JP2, .J2K, .DCX, .CRW,.PSD, .IEV, .LYR
Save Time
Handles a batch of files at one time.
Get the job done in seconds or minutes, not hours or days.
Supports context-sensitive menu(right-click) to convert a word file in one step.
Adds watermarks, properties, security and page number with one step.
You can create your own profiles (predefined and user-defined profiles).

Here are some screenshots of version 2.0 below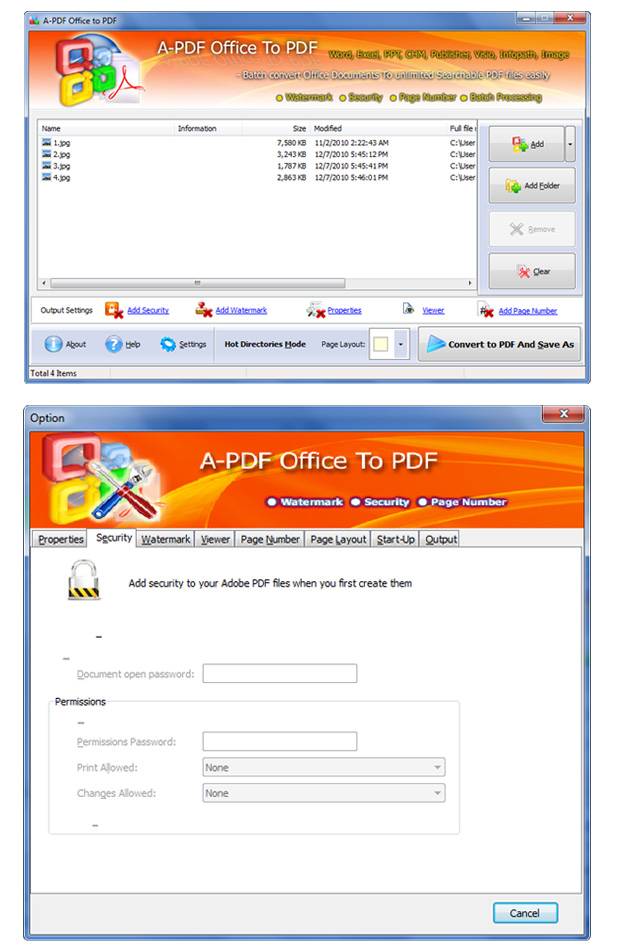 Three steps to Convert Office(Word, PPT, Excel) to PDF with A-PDF office to PDF